Balancing with Bond Funds
An appropriate balance of stocks and bonds is fundamental to building a solid portfolio, but individual bonds are expensive in general and usually inaccessible to investors who participate in employer-sponsored retirement plans. For these reasons, many investors use bond funds — mutual funds and exchange-traded funds (ETFs) composed mostly of bonds and other debt instruments. There are various types of bond funds, with the mix of bonds depending on each fund's focus and stated objectives.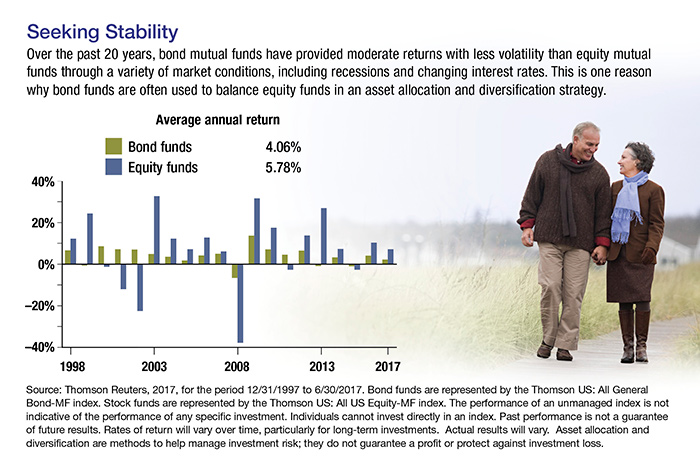 Rising Interest Rates
After years of rock-bottom interest rates and low bond yields, rates have begun to rise, creating challenges and opportunities for bond fund investors. Bond funds are subject to the same inflation, interest rate, and credit risks associated with their underlying bonds, so rising rates — which typically push bond prices downward — can adversely affect a bond fund's performance in the short term.
Over the longer term, however, as bonds within the fund mature and are replaced by higher-yielding bonds, the fund's yield and/or share value could potentially increase. Even in the short term, interest paid by the fund may help moderate any losses in share value. You might benefit from a patient buy-and-hold strategy that includes reinvesting interest payments.
Yield, Maturity, and Duration
In general, longer-term bonds and bond funds offer higher yields, but they are also more sensitive to rising rates. Funds that hold short- or intermediate-term bonds typically offer lower yields, but may be more stable in share price as rates increase.
Bond funds do not have set maturity dates because they typically hold bonds with varying maturities and can buy and sell bonds before they mature. Another measure called duration takes into account the maturity dates of the underlying bonds, the value of future interest payments, and several other data points. The longer the duration, the more sensitive a fund is to changes in interest rates. You can usually find duration with other information about a bond fund.
To estimate the impact of a rate change, multiply a fund's duration by the expected percentage change in interest rates. For example, if interest rates rise 1%, a bond fund with a five-year duration might be expected to lose roughly 5% in value.1 Although helpful as a general guideline, duration is best used when comparing funds with similar types of underlying bonds.
Other Factors to Consider
A fund's sensitivity to interest rates is only one aspect of its value, and fund performance can be driven by a variety of dynamics in the market and the broader economy. The return and principal value of mutual fund and ETF shares fluctuate with changes in market conditions. Shares, when sold, may be worth more or less than their original cost. Supply and demand for ETF shares may cause them to trade at a premium or a discount relative to the value of the underlying shares. Investments seeking to achieve higher rates of return also involve a higher degree of risk.
Mutual funds and ETFs are sold by prospectus. Please consider the investment objectives, risks, charges, and expenses carefully before investing. The prospectus, which contains this and other information about the investment company, can be obtained from your financial professional. Be sure to read the prospectus carefully before deciding whether to invest.
1) Investment Company Institute, 2017