It's Tax Time — Prepare with Care
Almost one out of four Americans say they would rather go without a car for a week than prepare their taxes, and almost one out of five would rather memorize U.S. presidents in order.1 Unfortunately, the IRS doesn't offer that choice. You can walk instead of drive and memorize the presidents if you want to, but you still have to file your taxes.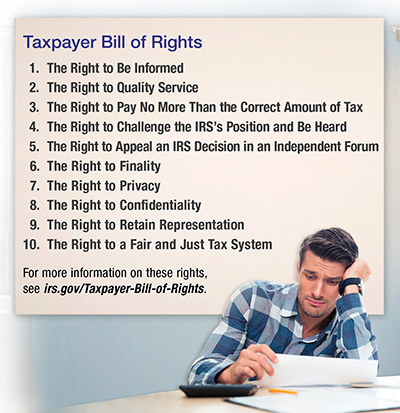 Part of the tax-time dread for some people is fear of an audit. In fact, audits have dropped in recent years due to IRS budget cuts and a shift in focus to larger enforcement actions. Just 0.7% of personal returns filed in 2015 were audited in FY 2016.2 Even so, it's wise to be careful when preparing your taxes. Here are a few simple guidelines that may help reduce your stress level and your chances of an audit.
Report all income. Many types of income other than wages are reported by the payer to the IRS (typically on a 1099 form), so the IRS can identify a failure to report income by comparing payer reports to your tax return. Even if income is not reported by the payer, you should include it on your return. Along with wages and self-employment income, some potential sources of income include investments, interest, royalties, rent, compensation as an independent contractor, forgiven debt, alimony, tips, gambling winnings, heath insurance reimbursements (for expenses deducted in a previous year), and proceeds from sales on online sites such as eBay.

Use good judgment when taking deductions. Take all deductions allowed by law, but keep in mind that certain deductions tend to raise a red flag. Among the most common are home-office deductions, vehicle expense deductions, and high-value charitable contributions. If you claim self-employment expenses, be sure you understand IRS regulations distinguishing a business from a hobby. Vehicle expense deductions require a written log. And remember that there are more rigorous record-keeping requirements for higher-value charitable deductions.
Check your math and personal information. The IRS sent out more than 1.6 million math-error notices in FY 2016.3 Even though a math error may not lead to an audit, it can call attention to your return. The same is true for entering incorrect personal information, such as the wrong Social Security number, or forgetting to sign your return.
File forms on time. Missing a filing deadline often leads to a letter from the IRS (though not necessarily an audit). Remember that even if you file an extension, you must pay all tax due by the regular filing deadline or you will be charged interest.
Find a good tax preparer. Depending upon the complexity of your return, you may want to consult with a tax professional before taking specific action related to your taxes. The IRS offers a searchable, online directory of federal tax preparers by ZIP code and preparer credentials at irs.treasury.gov/rpo/rpo.jsf.

Even if you do receive a letter from the IRS, there is no reason to panic. Many queries can be resolved by providing additional information or clarification, and relatively few require a personal meeting. Some audits result in no change or even a tax refund. Keep in mind that the IRS will not contact you by phone unless you have first received an official letter.
1) TaxSlayer, 2017
2–3) Internal Revenue Service, 2017