TIPS for Inflation Protection
The Federal Reserve's decision to gradually raise interest rates reflects a belief that the economy is stable and inflation is approaching the Fed's target rate of 2%.1 That's lower than the 30-year average of 2.6% (see chart). But even moderate inflation can have a negative impact on the purchasing power of fixed-income investments.
Adjusted Principal
One way to help protect your investment dollars from inflation is by purchasing Treasury Inflation-Protected Securities (TIPS). The principal value of these securities is adjusted twice each year, based on changes in the consumer price index (CPI). When the CPI rises or falls, the principal increases or decreases. If you hold the bond to maturity, you will receive the greater of the original or inflation-adjusted principal. Considering that every year over the past 60 years has seen at least some CPI inflation, the principal value of TIPS held to maturity is likely to increase.2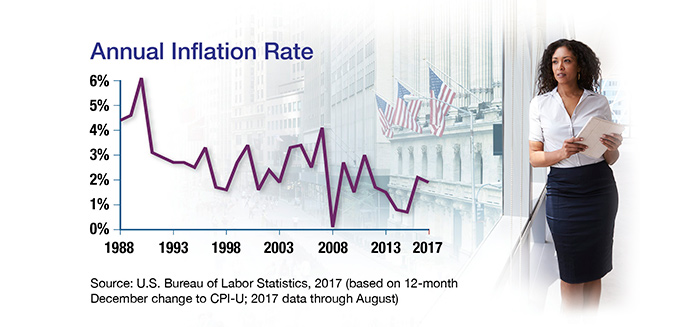 TIPS pay a fixed rate of interest twice a year based on the inflation-adjusted principal, so the amount of interest may fluctuate. You must pay federal income tax each year on the interest income plus any increase in principal, even though you won't receive the accrued principal until the bond matures. For this reason, many investors hold TIPS in a tax-deferred account such as an IRA.
Treasuries typically pay lower interest rates than riskier corporate bonds, and TIPS typically pay lower interest rates than equivalent Treasuries that are not adjusted for inflation. When evaluating a TIPS investment, you should consider the potential increase in principal value. TIPS may be a better value than equivalent Treasuries when inflation rises faster than the market anticipates.
TIPS are sold in $100 increments and are available in maturities of 5, 10, and 30 years. Like all bonds, the return and principal value of TIPS on the secondary market vary with market conditions and are sensitive to movements in interest rates. When interest rates rise, the value of an existing TIPS will typically fall on the secondary market. However, changing rates and secondary-market values should not affect the principal of TIPS held to maturity. All Treasuries are guaranteed by the federal government as to the timely payment of principal and interest.
1) Federal Reserve, 2017
2) U.S. Bureau of Labor Statistics, 2017